Monsignor Stanley J. Krempa, founding pastor of St. Bridget of Ireland parish, was ordained in 1970 for the Diocese of Buffalo, New York. He joined the Diocese of Arlington in 1977. After serving in three parishes as parochial vicar, Monsignor Krempa was appointed pastor of St. Mary's parish in Alexandria, Virginia. In 1999, he was appointed pastor of Sacred Heart of Jesus parish in Winchester, Virginia with the Saint Bridget's community in as a mission congregation of Sacred Heart of Jesus.
After a great deal of prayer, planning, and fund raising, Monsignor Krempa and the parishioners built the church in 2002, followed by the social hall with a religious education center. Finally, in 2017, a rectory was built enabling St. Bridget's to have a resident priest. On July 12, 2017, Bishop Michael Burbidge, bishop of the Diocese of Arlington, established St. Bridget of Ireland as a separate parish, appointing Monsignor Krempa as founding pastor.  Pope Francis designated him as a monsignor in 2018.
Monsignor Krempa sees a great future for St. Bridget's. Surrounded by Virginia counties whose population is expanding rapidly, St. Bridget of Ireland parish in Clarke County is a quiet place apart where faith and family are important and people remember your name.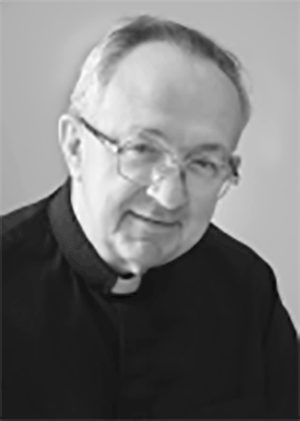 Pastor:
Monsignor Stanley J. Krempa
Rectory:
540-277-2943
540-277-2945 (FAX)
Rectory Hours:
Mon-Fri, 9 AM - 3 PM
Religious Education:
John Sengewalt at
540-277-2948
dre@stbridgetberryville.org
Office Hours:
Wednesdays, 9 AM - 3 PM
Saturdays by appointment
Sunday, after class until 1 PM
Office of Youth Ministry
OYM@stbridgetberryville.org
Music Ministry:
Stacy Sefton at
music@stbridgetberryville.org
Eucharistic Minister / Lectors:
Chet Lewandowski at
540-722-7231
Servers:
John Sengewalt at
540-277-2948
Sacristan:
Becky Jackson at
540-955-1715
Men's Club:
Meets the last Saturday
each month 8AM in Hobert Hall.
Coffee and Donuts on first
Sunday of each month.
Dick Drake at
540-955-5556 or
men@stbridgetberryville.org
Women's Group:
Meets the first Tuesday
of each month
Erin Huff at
317-696-4143 or
women@stbridgetberryville.org
St. Bridget's Email:
office@stbridgetberryville.org
St Bridget of Ireland
Catholic Church

1024 W. Main St.
Berryville
Virginia 22611