St. Bridget (or Brigid) of Kildare is one of the three major patron saints of Ireland along with Saint Patrick and Saint Columba. Saint Bridget's faith and labors for the Lord are remembered among the Irish people through prayers, sacred places, blessings and customs. St. Bridget was an extraordinary woman of faith: strong in her mission, loyal to the Lord, faithful to the Church, generous to the poor and hospitable to missionaries. St. Bridget laid strong foundations for the Church in Ireland. Her feast day is February 1st, the first day of the Celtic Spring.
Saturday
9:00 AM and 5:30 PM (Sunday Vigil)
Sunday:
9:00 AM
Weekdays:
Monday & Tuesday 12:05 PM
Wednesday 9:00 AM
Thursday & Friday 12:05 PM
Holy Days:
12:05 PM & 7:00 PM
Nationwide Mass Schedule:
www.thecatholicdirectory.com
Wednesday
6:30 to 8:00 PM
Saturday
4:00 to 5:00 PM
Sunday:
8:00 to 8:30 AM
For the Hospitalized and Homebound:
Notify the rectory at 540-277-2943 so that the hospitalized and homebound
parishioners may receive the pastoral care of the church.
Fast & Abstinence
Ash Wednesday and Good Friday are obligatory days of fasting and abstinence for Catholics. In addition, Fridays during Lent are obligatory days of abstinence.
For members of the Latin Catholic Church, the norms on fasting are obligatory from age 18 until age 59. When fasting, a person is permitted to eat one full meal, as well as two smaller meals that together are not equal to a full meal. The norms concerning abstinence from meat are binding upon members of the Latin Catholic Church from age 14 onwards..
If possible, the fast on Good Friday is continued until the Easter Vigil (on Holy Saturday night) as the "paschal fast" to honor the suffering and death of the Lord Jesus, and to prepare ourselves to share more fully and to celebrate more readily his Resurrection
Source:  United States Conference of Catholic Bishops.
Holy Week Schedule
Wednesday (March 28th)
Confessions 7 – 8 PM
Holy Thursday (March 29th)
No noon Mass
Mass of the Lord's Supper at 7:30 PM
Good Friday (March 30th)
Confessions at 10 AM
No noon Mass
Stations of the Cross at 3 PM
Liturgy of the Lord's Passion at 7:30 PM
Holy Saturday (March 31st)
No morning Mass
Confessions at 10 AM
Blessing of the Easter food at noon in the church
Easter Vigil and First Mass of Easter at 8:30 PM
Easter Sunday (April 1st)
Easter Mass during the Day at 9 AM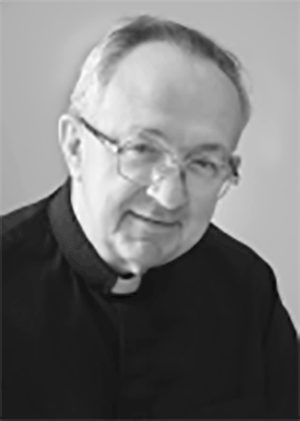 Pastor:
Monsignor Stanley J. Krempa
Rectory:
540-277-2943
540-277-2945 (FAX)
Rectory Hours:
Mon-Fri, 9 AM - 3 PM
Religious Education:
John Sengewalt at
540-277-2948
dre@stbridgetberryville.org
Office Hours:
Wednesdays, 9 AM - 3 PM
Saturdays by appointment
Sunday, after class until 1 PM
Office of Youth Ministry
OYM@stbridgetberryville.org
Music Ministry:
Tricia Russman at
stbridgetsmusic@gmail.com
Eucharistic Minister / Lectors:
Chet Lewandowski at
540-722-7231
Servers:
John Sengewalt at
540-277-2948
Sacristan:
Becky Jackson at
540-955-1715
Men's Club:
Meets the last Saturday
each month 8AM in Hobert Hall.
Coffee and Donuts on first
Sunday of each month.
Dick Drake at
540-955-5556.
Women's Group:
Meets the first Tuesday
of each month
Erin Huff at
317-696-4143
St. Bridget's Email:
office@stbridgetberryville.org
St Bridget of Ireland
Catholic Church

1024 W. Main St.
Berryville
Virginia 22611